Does Green pan work on induction
Green pan works perfectly on induction. This is because of its magnetizing base; its base is made of ferromagnetic particles.

The Author
To test induction compatibility, hold the magnet up against the base of the pan, and if it sticks; then it is induction compatible.
Green pan's magnetic base makes it perfect on an induction cooktop.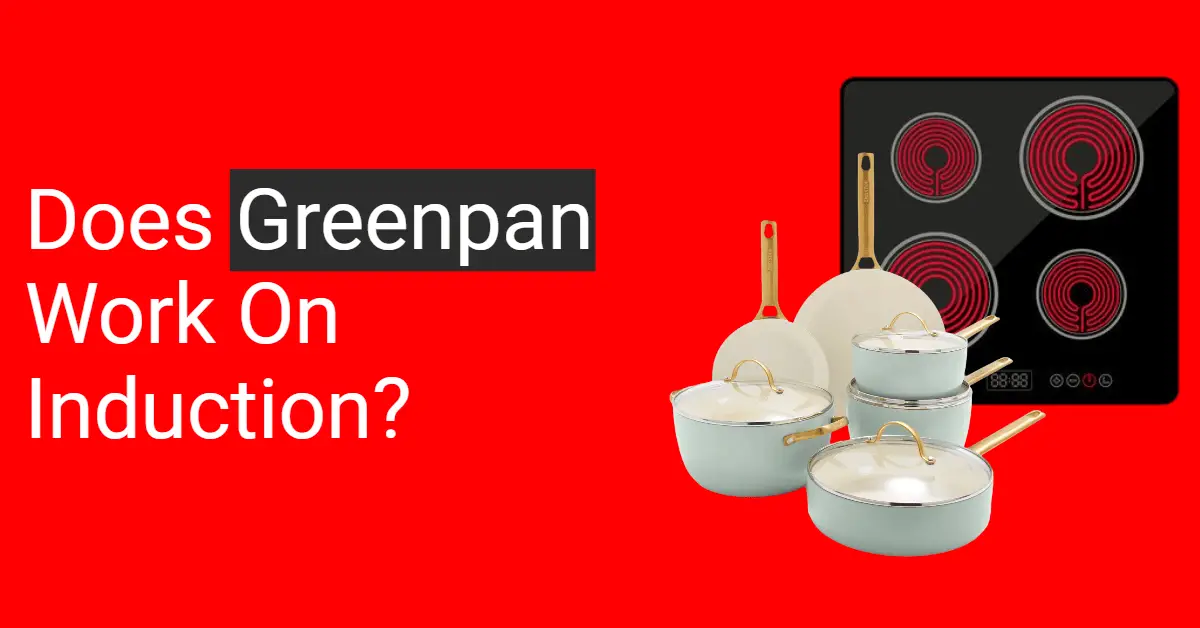 What is an induction cooktop all about?
In recent years, induction cooktop has become the most preferred cooktop, this is because it is efficient, durable, and affordable. 
Also, it is highly versatile; it can be used at home, in restaurants, large diners, and hotels. 
However to benefit from this technology the right cookware that is compatible with induction has to be used and GreenPan is one of such cookware.
How induction cooktop works
If you are lucky to have an induction cooktop, then you have a sleek and energy-efficient cooktop in your home.
Tech-savvy cooks appreciate induction cooktops because of their heat precision, safety, and energy efficiency. 
It is controlled by an electromagnetic field under a glass cooktop; cookware is heated up instantly as electric currents go straight into the cookware. 
The uniqueness of this stove is its ability to become cool again immediately after it is turned off. 
The only caveat is special cookware with magnetic bottom can be used, such as GreenPan cookware; with several induction-friendly cookware sets like the GreenPan Valencia Pro collection
The Science of Induction Cooking
Induction works by creating a magnetic field between the pot and the magnetic burner beneath the surface, energy created in the electromagnetic field heats the content of the pot. 
Why it is most preferred is because
It is greatly energy-efficient
Heats food more quickly
The burner becomes cool immediately it is turned off.
Healthy cooking as we all know starts with a healthy pan, Green pan is toxin-free, nonstick; free from cadmium, lead, PFAs, and PFOA.
Is GreenPan Induction compatible?
Are you thinking of how to get the perfect cookware that is induction compatible and stacks up against others?
Green pan is induction compatible, I will state some of the features of GreenPan that make it compatible with induction below, giving in detail how it feels, looks, and performs. 
I will as well state how it performs, its cost, and lots more.
 How it looks
GreenPan has several collections; the designs vary from sleek brushed stainless steel to matte black with gold-tone handles.
One of such is GreenPan Paris Pro Hard Anodized healthy ceramic nonstick. 
This is Cookware with stainless steel lids, it is dishwasher safe, grey, PFAS- free, and PFOA- free; never releases toxic fumes even if accidentally overheated.
It is oven and broiler safe. 
Some of the GreenPan products that are induction-compatible are:
Valencia Pro Ceramic Non-Stick 11-Pc. Cookware Set
This GreenPan cookware gives you reliable performance all year.  
This durable hard-anodized cookware's base has induction for perfect heat transfer and even heating. Some of its features are :
Durable and scratch resistant
It's magneto base is  copper fortified  for  easy and efficient heat transfer
Perfect for all cooktops including induction.
It is broiler and oven safe
With a glass lid to aid monitoring of food.
Valencia Pro 10″ Ceramic Non-Stick Covered Fry Pan
This fry pan is specially designed with magneto base making it induction compatible. 
It is durable
Scratch resistant
Free of PFAS and PFAO,
Compatible with all cooktops
It is a hard-anodized aluminum.
Why go for Green Pan induction-compatible cookware
Search no more for the best induction-compatible cookware, GreenPan Valentia Pro is the best with its ceramic cooking surface.  
GreenPan Valentia Pro induction cooktops have several advantages, it is one of the foremost  non-stick cookware for induction stoves  for many reasons.
Excellent performance
The magneto base of GreenPan Valentia Pro provides full contact with any cooktop, especially induction; it distributes heat evenly, retains heat well, and transfers it quickly. 
It is thermally reinforced with iron and copper which is rarely found in other non-stick cookware.
It is healthy and safe
GreenPan made health and safety its priority. The cookware's ceramic non-stick surface is free from lead, cadmium, PFAS, and PFOA. 
There can be no toxic fumes when the pan is overheated, and no unsafe substances contaminating food, making it the best choice.
Thermolon used is the natural alternative to the traditional non-stick, it does not release toxic fumes in the case of overheating.
Dishwash and oven safe
The GreenPan Valencia Pro cookwares are ovens, broiler and dish wash safe. 
The glass lid can only withstand temperatures of up to 450oF, oven and broiler safe for up to 600oF
Durable
GreenPan cookware use a ceramic coating that is diamond-infused thermolon, it is made for consistent use over high heat. 
It is designed to resist scratching, bubbling, and warping, it is perfect for a different range of culinary techniques like browning, sautéing, braising, and searing while still maintaining the coat. 
This cookware will sure last a long time, irrespective of use daily.
Easy to wash and clean
With the ceramic non-stick finish of Green Pro cookware, it is easy to wash and clean.
Testing cookware for induction compatibility
In order to tell if a pot or pan is compatible with your induction stove, hold a magnet to the base.
If it clings to the base, it is induction compatible.
If the magnet clings to the pan softly, it may not be a perfect result as when it sticks solidly.
If the pull on the magnet is weak, it does not contain the right metals and will not generate the desired heat.
Take note of the packaging as well, manufacturers have started indicating the "induction compatible" symbol, the symbol looks like a horizontal zig-zag or a coil.
Final Thought
The best eco-friendly cookware that is induction compatible and highly efficient is the GreenPan Valencia Pro collection. 
It is made with organic materials and has a flat copper-reinforced base that helps it to sit stable on an induction cooktop and distribute heat fast and evenly.
It has magnetic properties to work with the magnets in induction stove.